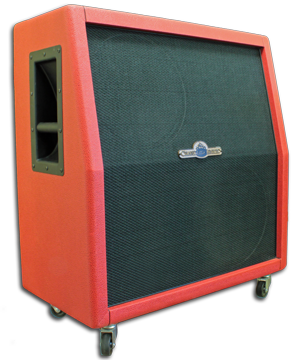 PRODUCT DISCONTINUED EFFECTIVE 1.5.22 - The GAV19T 2x12 speaker cabinet is a closed back British style enclosure, available as slanted or straight faced. This guitar speaker cabinet is constructed using Baltic Birch wood, 1/4" finger joints, and covered in the same rich Red Garnet Tolex® as used on the GAV19T guitar amplifier. The speaker enclosure is elegantly lined with all black piping, and the grill cloth is a black cane small weave.
Guitar amplifier speakers contribute to the experience! After thorough listening and testing sessions the following speaker options have proved to offer great tonal combinations with the GAV19T amp cabinet: Celestion Vintage 30, Celestion Heritage G12H-30 watt 55 Hz, Celestion Alnico Gold, and Celestion G12M-65 Creamback; Wade's favorite is the Celestion Alnico Gold. The two twelve inch guitar speakers are mounted in a diagonal configuration, and wired in series as a 16 Ohm cabinet.
The Chandler Limited GAV19T speaker cabinet is available by special order; contact your dealer today.