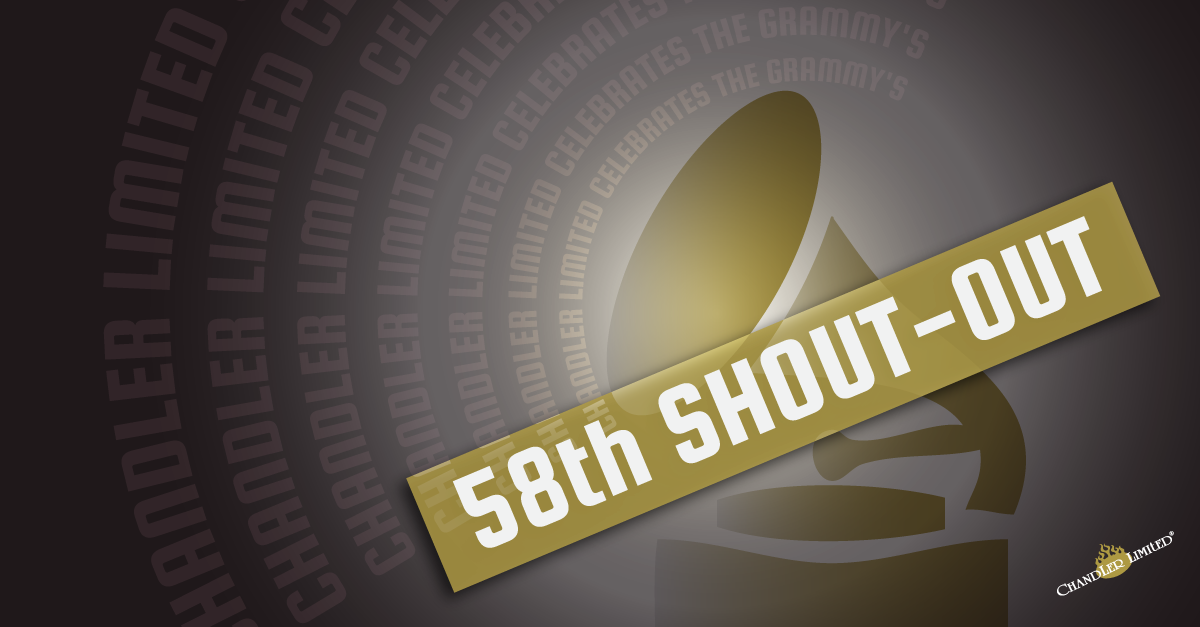 The Grammy Awards is the perfect time to celebrate the inspiration of our friends and music makers; it's also a great joy to see our users acknowledged for their tremendous efforts.
This is Chandler Limited's Grammy Awards shout-out to the audio artisans who have earned nominations and awards for their craft.
Producer, Engineer and Mixer Dave Cobb has been putting out wonderful records for many years, and we are thrilled to see him recognized for his incredible talent. Dave Cobb already earned top honors at this years CMAs for production with Chris Stapleton for Stapleton's "Traveller" album, mixed by the always awesome Vance Powell. "Traveller" is nominated for an Album Of The Year Grammy and has taken home the Grammy for Best Country Album.
Dave Cobb is hitting in multiple spots this year, Jason Isbell's "Something More Than Free" produced by Dave, and engineered by Matt Ross-Spang, scored two Grammys- Best Americana Album, and Best Roots Song for "24 Frames".
Mr. Cobb was also nominated for the Producer of The Year, Non Classical Grammy Award.
We're super stoked for Dave, Vance, and Matt, congrats guys! P.S. Dave's got incredible taste in gear, psst... We're kind of proud that he's got some Chandler stash.
Our bear in the lair... Producer, Engineer and Mixer Howard Willing mixed Glenn Campbell's "I'll Be Me" soundtrack which took home the Grammy Award for Best Compilation Soundtrack for Visual Media. Not to poke the bear... However, Howard's got quite the discography!
Taylor Swift's 1989, recorded at engineering bad-ass Ann Mincieli's Jungle City Studios won the Grammy for Album Of The Year, and Best Pop Album, congrats to Jungle City's staff engineer Brendan Morawski!
Ed Sheeran's "Thinking Out Loud" is up for Record Of The Year, and we salute Chandler user, Engineer and Mixer Mark "Spike" Stent's gem of a mix; very fine work sir!
Producer and Mixer Tony Maserati and his team worked on Andra Day's "Only Love" track from "Cheers to The Fall", which was nominated for Best R&B Album. Tony Maserati is a longtime Chandler Limited- Tony and his crew are top of the pops! Check out Tony Maserati and his team at MirrorBallEntertainment.com.