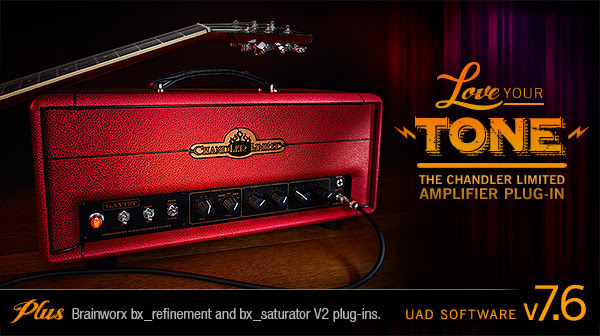 Guitarists love their tone, don't they? Guitarists also dig the unique interactive relationship between their hands, guitar, and guitar amplifier. The newly released GAV19T guitar amp plug-in conjures up that familiar feeling in a big way.
Developed by the amp modeling gurus at Brainworx for the UAD plug-in platform, the Chandler Limited GAV19T amplifier plug-in is an exacting emulation of our acclaimed dual EL84-powered GAV19T tube guitar amplifier. Inspired by British classics such as Vox and Marshall — and lesser-known gems from Watkins and Selmer — the Chandler Limited GAV19T Amplifier plug-in goes from supple clean textures, grinding blues tones, and rowdy distortions that gush with character.
Available exclusively for UAD-2 DSP Accelerators and Apollo-equipped workstations, the Chandler Limited GAV19T plug-in is an unparalleled "in the box" tone machine.
Love your TONE, and it will love you back! Check out the Chandler Limited GAV19T guitar amp plug-in today!