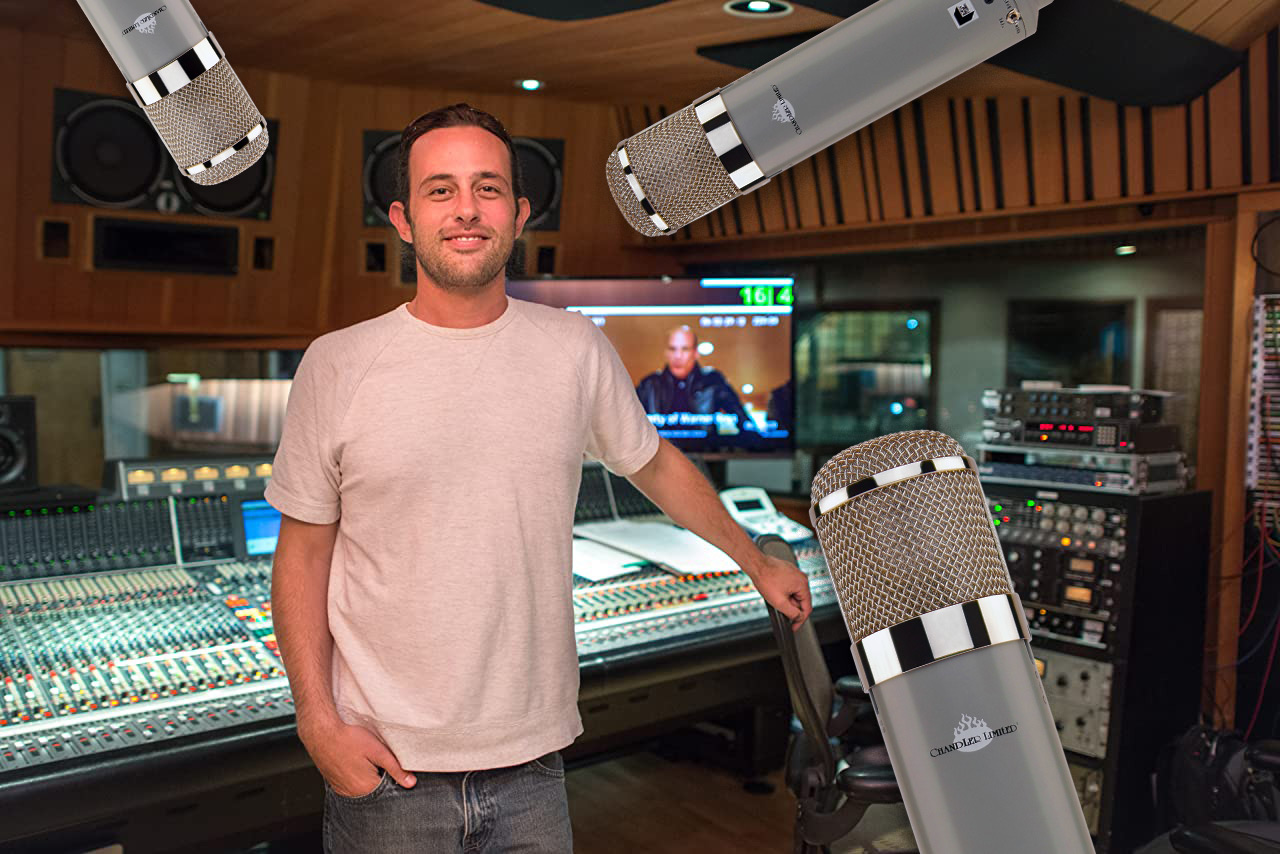 Shell Rock, IA – September 2020… What would our favorite films and television series be without a score, or a soundtrack supporting the story? The answer would be flat and lacking dimension, a loss of immersion that completes the suspense of disbelief.
It takes a special breed of engineer to record and mix—produce and compose too—the soundtracks to the worlds built by an army of production teams for our entertainment, and one standout in this field, both professionally and personally is, Greg Hayes.
To date, Greg Hayes, the engineer's 'engineer,' has 220 credits across music department and sound department to his name. From major motion pictures—"Crazy Rich Asians," "Ant-Man and The Wasp," "BlacKkKlansman"—to TV Series and Broadcast Sports—"Perry Mason," "Daybreak," and F1 Sports' "Formula One," chances are you've been immersed in the plot and enjoyed Greg's special gift.
Our interview with Greg is a feature of the artisan and his application of the Chandler Limited EMI / Abbey Road Studios REDD Microphone to his craft, which is the art of sound for film and television.
Since the time of this interview, Greg has added many more credits to his resume including— "Godzilla: King of the Monsters," "DC's Legends of Tomorrow," "El Camino: A Breaking Bad Movie," "Frozen II," "The Hunt," and Tom Hanks' "Greyhound," among others.
CL: Greg, how many years have you been recording and mixing soundtracks for motion pictures, where does the story begin?
GH: In 2004 I started working on feature films under a great mixer, Denis Sands, and the first feature film I worked on was "Polar Express;" Alan Silvestri was the composer. I went to the scoring sessions for that at the old Todd-AO Scoring Stage and once I saw Alan up on the podium conducting the orchestra, I never looked back, I just fell in love with the whole thing.
CL: How many films have you worked on now?
GH: Since then, somewhere around 200+ films to date; film, television and video games combined.
CL: In what capacity were you, mixer, engineer, or both?
GH: Usually recording and mixing, sometimes only one or the other. In the early days, I'd say—probably the first five years—I was a Pro Tools operator, editor and recordist, and then transitioned into being the head mixer.
CL: Before your work in sound for film and television, you were engineering records for artist like— Shelby Lynne, Tim McGraw, Trace Adkins, Tom Petty, The Eagles, Dr. Dre, and Mary J. Blige, are there any records you look back on as seminal moments in your career?
GH: I'd say Shelby is one of them, another record was Warren Zevon's "The Wind" that we did here in Los Angeles; that actually is a great story and kind of how I transitioned film. The producer on the record also worked in film scoring, and after we worked on that record (Warren Zevon's "The Wind",) he was working for Dennis Sands. Dennis needed some help in his new studio and that's how I transitioned into film.
CL: Are you from Los Angeles originally, how'd you get into the recording industry?
GH:  I was born in L.A. and later moved to Nashville; I went to High School in Nashville and that's when I started working in studios, before moving back to L.A.
CL: What was the reason for that, was your family involved in music, was that what got you to Nashville?
GH: My mom was working for a manager who was managing an artist that got signed to Warner's Nashville. The manager made my mom a job offer to work in Nashville, and we both made the decision to move out there. That artist—Chris Cummings—was doing his first record at a studio called Loggy Bayou. I went over there and hung-out for a session, and the engineer/owner of the studio asked if I wanted to come hangout, and said that I was more than welcome to anytime; I showed up every day after that.
CL: During that time in Nashville, you must have seen a lot action at that studio, probably some unknown artist that later became well known.
GH: Once I began working at the studio, we did a lot of songwriter's demos, smaller records, and also worked with artists like Tim McGraw, Trace Adkins, Charlie Daniels and others; we did Tim's first demo before he was "Tim McGraw".
CL: At what point did you move back to Los Angeles; you were still working on records, right?
GH: When I first came back from Nashville, I was working on records at Cherokee Studios and Capital. In Nashville, I was working on a record of standards with Cloris Leachman. At the end of recording, her daughter came out and we recorded a little for a song demo and she ended up staying in Nashville with me for over a year. We headed to L.A. just for the holidays—around Christmas time—and got an opportunity to stay in L.A. for four to six months and got my first job at a studio here, recording hip-hop tracks. From there I got into Cherokee as a Runner; because no one had really given me the time of day just because I'd worked in Nashville. So, I was a runner at Cherokee for about two weeks and one of the assistants didn't show up one day, and the owner [Bruce Robb] came out and asked "Does anyone know how to run a tape machine?" I said— "Yeah I do!" I went in there and was punching syllables doing a vocal overdub and from that day on I was never a runner again.
CL: And from there, you went on to do Tom Petty, The Eagles?
GH: Yep, and all that was related to the Warren Zevon record, and later Mary J. Blige, Dr. Dre and Snoop Dog.
CL: Did you met your wife at Cherokee Studios?
GH: I met my wife at Cherokee while engineering and producing her band's record. I'd come off a three or four straight on another project, when I saw her band loading in, and wasn't actually slated to work on it, and I wanted to work with them. I was higher in the hierarchy and really wanted to work them, so, I booted the guy that was slated to do it. I ended up doing the album with them, cut to fifteen years later and here we're married with a kid on the way.
CL: Okay, back to the Warren Zevon record for a moment, that's where you make the move to film, that must have been around 2004 correct?
GH: Yes!
CL: Okay, let's start talking about the REDD Microphone.
CL: When we first met, it was to demo the REDD Microphone, it took about 20 seconds on an acoustic guitar and your first response was— "I'm going to get a Decca Tree of them," and you did! How did you first hear about the REDD Microphone and what was your first thought about the concept?
GH: I think I saw it on a post on a thread. It interested me because, when I'm doing small overdubs or a string quartet or things like that, we're not always at a [commercial] studio, we're at a composer's studio and I find myself in a situation where the setup of the studio isn't always ideal; I've found myself always compromising my standards for recording when in these scenarios. The mic [REDD Microphone] having the mic-pre and everything consolidated into one package, lets me show up at a composer's studio and control all those variables that normally I'm not able to, such as— the wiring, the patchbay, or things that you constantly have problems with if they haven't really been done great.
CL: You're also friends with Peter Cobbin, who was the Head Engineer at Abbey Road Studios for many years and was one of the first to test the REDD Microphone, had you contacted him about the REDD?
GH: Yeah, I was going out there to record a score at Abbey Road Studios and I wanted to chat with Pete about it. He had nothing but great things to say, having put them [REDD Microphones] up against all the great mics in Abbey Road's collection. So, when I went to Abbey Road and actually got to use the three of them there—the first time was on cellos and also choir—I was blown away.
CL: This was after our short demo at your place?
GH: Yeah.
CL: You've got a Decca tree of Neumann M50s—and now a Decca tree of REDD Microphones—, do the REDD Microphones and M50s compliment one another?
GH: One hundred percent, that's a really a big use for them. Where the M50s give me the sparkle on the top end, I get the fullness and body out of the REDD Microphones.
CL: Since having them, you've used them on— BlacKkKlansman, Crazy Rich Asians, and the F1 Sports broadcast racing series among others, can you tell us how you've employed your REDD Microphones on those sessions?
GH: On BlacKkKlansman—over at Sony—I used them as 'string overalls' in that scenario. Using them as string overalls, I was able to get the detail out of the strings without having a super close mic right up in your face; I placed them probably 8 or 9 feet above each section.
CL:  Were those in Omni and were they used as a secondary Decca tree or over the sections?
GH: For BlacKkKlansman, they were in Omni and over the sections.
CL: How and where did you use the REDD Microphones for the Crazy Rich Asians soundtrack?
GH: For Crazy Rich Asians, we did orchestra and some big band sessions. I used the REDD Mics on cello and basses for the orchestra and for the big band sessions; ninety percent of the sound of the drum kit is a mono REDD Microphone about three feet high and a foot and half to two feet out, pointing between the kick drum and the snare drum. The settings were in cardioid, 'Normal' gain, PAD, no 'Low-Contour,' and I overdrove the [internal] preamp to get just a little bit of grit; I also used them as an overall section mic on the brass.
CL: What's interesting about the REDD Microphone is, it's almost like a scientific instrument in a way, a sort of 'baseline,' where it's not really pronounced in any which way, though has this extended top and bottom; I can imagine it would be great for brass, because it takes out some of the irritating elements while keeping it "brass".
GH: Exactly, when brass is blowing pretty loud, they can actually be pretty harsh and the REDD Mic really smooths out the transients while retaining the ballsy-ness of the brass. For that, I had REDD's 'Drive' on and no Low-Contour; with basically just that mic and not much else, the balance of the band was perfect.
CL: You've used the REDD Microphones for the F1 Sports theme soundtrack can you tell us about that?
GH: In London, we scored "Formula One" and the composer was Brian Tyler; he'd composed a few themes for Formula One. Though they'd never really had thematic material to use worldwide—I think in the past they'd just licensed music in each territory—, the creative director for Formula One really wanted to start branding musically. It's pretty incredible, you can compare it to the Super Bowl, however, where the Super Bowl is one event with ninety million or so viewers worldwide, Formula One has like one hundred and twenty million viewers and twenty-eight races a year; it's like the Super Bowl happening twenty-eight times a year.
CL: What studio was that recorded at and how did you use the REDD mics?
GH: We did the Formula One score at AIR Studios. I used them [REDD Microphones] on the celli and basses. In that score there's a lot of electronics happening and I really wanted the basses and celli to be able to cut through; they were holding the rhythm down at super high tempo with a lot happening in the sound-field. In order to cut through, I was able to flip the REDD Mic into Drive and Low-Contour, and it just sat perfectly in the mix.
CL: And you didn't have to do much more after that?
GH: Nothing, zero EQ, from that point…just panning.
CL: Let's go back to the Decca Tree and the M50s for a second, you also use the REDD Mics as a middle Decca Tree, correct?
GH: Yeah, exactly! A lot of times I like to get three perspectives when I'm recording Orchestra— close mics, mid mics and far room mics. From that, I'm able to create a balance—depending on the piece of music—that's right for the film or mood, or whatever we're going for. So, if I have the tree [M50s] at ten feet, I'll have mid mics—I'll use the REDD Mics for those—at eight and a half feet, and then the close mics are at six feet or below.
CL: Some of these sessions have tons of tracks, with close mics everywhere and this dual Decca Tree of Neumann M50s and REDD Microphones—almost like you're bi-amping or a crossover network—and the mics out on the sides, how many microphones do you typically have set up?
GH: In total—depending upon the size of the orchestra—there can be forty to fifty mics out on the stage.
CL: What would you say the majority of the sound comes from, is it the main Decca Tree and the side mics?
GH: I'd say there's about eight mics that make up the main part of the sound, anywhere from seventy to eighty percent of the sound is from those mics, including the three REDD Microphones.
CL: What are the close mics used for, attack?
GH: Yeah, they're really there to fill in the gaps in the performance. For example— we didn't get enough of the violas, so I'll need to pull up the close mic of the violas; it's really to help balance anything we didn't get from the performance. Also, if there's percussion, to fill-in some of attack on those instruments, or harp things like that.
CL: You see a lot of studios and sound-stages, do you travel with your REDD Microphones?
GH: Basically, I'm always travelling with them, they're probably the single mic I can't do without.
CL: Other than the sonic benefits of having the REDD Mic—all in one preamp inside the microphone—and driving the line from the source, is there another benefit when seeing so many different studios?
GH: The biggest benefit of that, is going to composer's studios that are down and dirty and we just have to get it done. A lot of times we don't have time to dial-in sounds, I have to be able to plug in and go, and to have the REDD Mics allows me to do that and get the sound I want immediately and hit record from the first take.
CL: With REDD Microphones, you're able to bypass a lot of studio issues.
GH: Yeah, I'm able to just bypass everything, come straight out of the power supply right in to the converter and know what to expect; it's saved me on many occasions.
CL: Can you give us some examples?
GH: Well, I don't want to throw anyone under the bus, but I've been to places before where It'll be and hour and half trying to figure things out— "Why is this ground hum here or other things."
CL: And you're just like— "here's my cable!"
GH: Here ya go…
CL: What's the response to the REDD Microphone been like from studio staff and producers?
GH: It's been nothing but praise, people ask "what is that, why is it that sounding so great," and I'm like— well…go buy one. We did a show called "Kevin (Probably) Saves the World" with composer Blake Neely, with a lot of upright bass and had a great bass player, Mike Valerio. I put the REDD Mic up—it was the first time I'd used it on upright bass—he [Mike] was blown away, he came into the control and said— "my bass has never sound this good, what is this thing?" and now he's proud owner of a REDD Mic.
CL: How'd you mic him on that; I think I've mentioned to you how composer David Schwartz places his REDD Microphone?
GH: With Mike, where we ended up with the REDD Mic was about finger level [plucking hand,] which is a bit high—normally I'd mic an upright base kind of around the bridge—and about two to three feet back. So, we ended up going where his fingers are and in cardioid and Norm; normally you don't do that because you get so much slap and attack. However, with the REDD Mic, it smoothed out those transients perfectly and gave us the perfect balance between body and attack for that specific show we were working on.
CL: The REDD Microphone is known for its amazing proximity effect, where bass response extends out about ten feet before dropping, have you been using that distance to your benefit?
GH: In many scenarios—on drum kit as well—all the rhythm section recordings for Ant-Man and The Wasp—with Chris Beck—we ended up putting a stereo set for room mics, in Drive and Low-contour, directly into an 1176, and again the people on the session including the composer were like— "Wow, this sounds great!" …we had them about 6' out from the drum kit, three feet high and in cardioid.
CL: With the REDD Microphone, are there any particular settings you gravitate to, and why?
GH: I generally either have Drive or Low-contour on—or both—it's pretty rare that I don't.  A scenario where I didn't, was where I recorded an Opera singer for "Kevin Probably Saves The World". What I found remarkable was because they have such a crazy range, I have to adjust the mic preamp to the recording, and I didn't have to do that with the REDD Microphone. It [REDD Microphone] was able to capture all the nuance when she was singing at such a low volume, and when she was belting, she wasn't overdriving the mic. I had the REDD Mic in cardioid, no drive or low-contour and about three feet back.
CL: And with all that proximity and frequency range [low to high,] you didn't have to worry about where the vocalist was in relation to the capsule, they could just sit out there and do their thing?
GH: Exactly, we were less concerned with that.
CL: How did the artist like it?
GH: She was happy with it, she was blown away.
CL: Has the variable tone of the microphone and its features helped you in challenging situations?
GH: It's incredibly versatile and for me as a scoring mixer, it has become a huge asset. In a lot of scenarios we don't have time to say— "We're looking for a different sound on this, take the mic down and put another mic up," which is generally what I would do, or change the preamp or change the signal processing, with the REDD mic, I'm able to go— "I want a different sound on this," and flip a switch, overdrive the preamp—or not—and I have completely different character out of the same mic. That has become invaluable to me, I really lean on that aspect of this mic.
CL:  Let's talk about the sound and the quality you get from the REDD Microphone, can you describe what it gives you?
GH: We talked about the how flat the response is, and really a good way to describe it is the extended top-end is like from a [Telefunken] 251, with a bottom-end of a [Neumann] U47, but the key with both those is, a U47 or 251 that's in really good shape, and these days is super hard to come by. The other thing that I love with the REDD mic is what it does with the transients or transient response—I'm sure this is a combination of the tube preamp and the platinum capsule—in how it captures the transients, smoothing them and what comes right out of the mic—I don't have a better way to put it or describe it—it's a finished sound; It goes right in to the track with very little EQ. In film scores a lot, we're trying to harness dynamic range, for example, in rock stuff I'm using a lot of compression or processing, however, in orchestral I'm not and the REDD mic really captures the dynamic range. Another big issue for me is noise, when you have forty to sixty mics out on a stage, a lot of the old tube mics can become noisy, whereas the noise floor on the REDD microphone is non-existent, which is another big asset for me.
CL: Back to this sort of notion the REDD Microphone is like a scientific instrument or reference, because it has this extended range—top and bottom—and it's not really scooped, its flat and when you put it up to a mid-forward mics or other mics, it will exaggerate what they do.
GH: That's one of the reasons why it's a great combination with the M50. The M50s are not a flat microphone, they are directional at the top-end and have high and low-end extension, having the REDD mic as a constant, gives me a grounding in reality.
CL: It's funny, when you say "reference," people think "sterile," though the REDD isn't like that, how would you describe that aspect?
GH: It's like having a mic that is telling you what's actually happening out there, what I mean by 'telling you' is, it's reproducing what's happening in the room. There's mics out there that do that, generally they're smaller diaphragm microphones, however, what ends up happening is, they lack vibe and lack helping to tell the story. A lot of times with a film score we're trying to tell a story or convey emotion; the REDD Mic just exudes emotion.
CL: It's an accurate mic with a soul.
GH: That's a great way to describe it!
CL: When you mix with a REDD Microphone on tracks, what does it mean to you in terms of the mix or the approach to it?
GH: It gives me consistent predictability. On a lot of the television shows I do I'm able to record my live mixes, and ninety percent of the time for my broadcast television stuff, what you're hearing with the TV show, is the mix that we printed live while recording; I'm mixing while recording and the REDD mic is a big part of giving me the ability to do that.
CL: Is the REDD Microphone a big part of the overall sound?
GH: Yeah, it's between them [REDD mics] and the other 3-6 mics, it is the sound.
CL: And not much processing on the REDD Mics, just straight to the converters and in?
GH: Zero.
CL: For "Small Foot," the animated feature film, you used REDD mics on it for choir and three drum kits [a Warner Bros. session,] can you tell us about that?
GH: The three drum kits were for "Despicable Me 3" actually, at Warner Bros. I close mic'd each kit, but what we were really looking for was the sound of three kids in a room playing, so I actually used the REDD mic as the tree mics [Decca Tree]. With drum kit you want to get some definition, so there were some close mics, and I'd say it was a 50/50 balance between the room mics and close mics.
CL: How about "Small Foot"?
GH: On Small Foot I used the REDD mics for Cello and Choir. On the choir I had the REDD Mics placed eight feet out in a spaced array—like an LCR—probably fifteen feet apart and eight or ten feet high, in Norm and Omni.
CL: How did that come out?
GH: It came out beautifully, there were only about 10 mics total on the choir and the REDD mics were about sixty percent of the sound.
CL: Do you remember what the first project was that you'd used your REDD Microphones on?
GH: I want to say "Kevin Probably Saves The World," on upright bass, that was my introduction into getting some response outside of using it on myself on acoustic guitar; which I've used it lot on acoustic guitar.
CL: What did you find using them on acoustic guitar?
GH: I also have KM54s, but it depends on the sound I'm going for. If I'm going for a large diaphragm sound on acoustic guitar, to give me a nice warm round tone…I was blown away by the REDD Mic. A lot of times you stick an U47 or something like that on an acoustic guitar you get tubby-ness, and there was zero tubby-ness with the REDD mic. On this particular project, I played around with cardioid and omni patterns—we wanted a more open sound on this part—and went with omni, pretty close to the guitar, about a one to one and half foot range, and was able to get an openness and warmth without the guitar being tubby; it was also in Low-Contour.
CL: What do you think of the forgiveness of the REDD Mic's cardioid pattern; not everybody can be right in front of that capsule?
GH: Yeah, it has a nice wide and even response. One of the big things in recording orchestras is—when you have so many microphones out there—the off-axis response is really critical, and with so many large diaphragm mics the off-axis response is really uneven, meaning you a get a lot more low-end than you'll get top-end. I've found with the REDD Mic, using them on celli for example, if you solo them, the violins leaking in still sounds natural and open, even though they're not close, they're from across the room twenty feet away. This is really critical with orchestral, you've got a ton of instrumentation in the room.
CL: It's a "Phase" minefield!
GH: Exactly, the REDDs don't contribute to the problem.
GH: Oh…to go back to BlacKkKlansman, Terrance Blanchard was the composer, he's done almost all of Spike Lee's films. We did orchestral recordings at Sony, but we mixed back at my place and Terrance wanted to do some trumpet overdubs. My studio is primarily a mix studio and Terrance asked if we could do the overdubs really quick, so, I grabbed a REDD Mic—first time I'd ever used it on solo trumpet—, plugged it right into the converter, and boom we got solo trumpet with Terrance Blanchard and it was one of the best sounding trumpet sounds I've ever gotten.
To learn more about Greg Hayes or book him for your next score, visit: www.greg-hayes.com