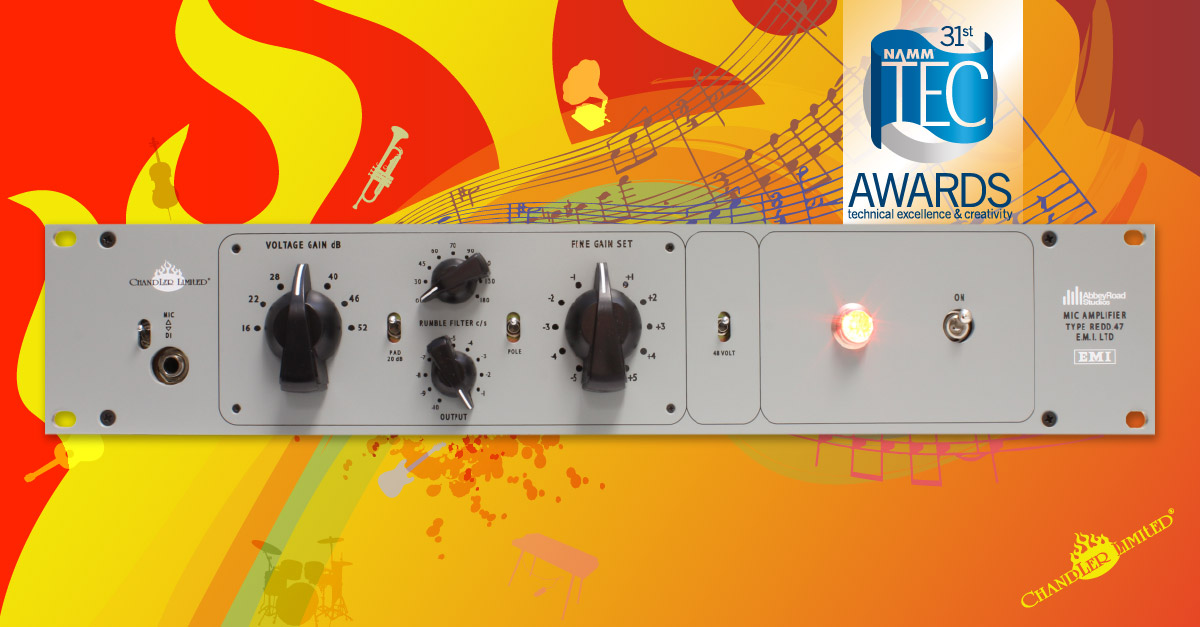 Shell Rock, IA – November 2015 … Chandler Limited is pleased to announce the REDD.47 Mic Amplifier from our esteemed EMI/Abbey Road Studios historic series has been nominated for the 31st annual NAMM TEC Awards for Outstanding Technical Achievement, in the Microphone Preamplifier category.
Chandler Limited is proud to be associated with the NAMM TEC Awards, and we'd like to thank the NAMM TEC Awards, our friends in the pro audio community, and all those who've made this nomination possible.
Chandler Limited's REDD.47 Mic Amplifier is a recreation of the original valve line amplifiers used in Abbey Road Studios' heralded and rare EMI REDD.51 recording consoles circa 1959-1968.
Designed as a central component to the EMI REDD.51 recording console, the original REDD.47 line amplifier was used to amplify virtually every stage of the audio path (mic inputs, line inputs, echo sends and monitors).
The REDD.47 lent its unmistakably punchy, aggressive character to music recorded at Abbey Road Studios' Studio Two between 1964 and 1968, including many tracks by The Beatles, and early Pink Floyd recordings.
Since its introduction, and many rave reviews, Chandler Limited's REDD.47 Mic Amplifier has become a staple to many top producers and recording enthusiasts worldwide; quite simply, it's the new "desert island" preamp.
More than a recreation, reimagined for the modern era, Chandler Limited's REDD.47 Mic Amplifier truly captures "the sound"; if you want it, nothing else comes close.
Abbey Road Studios, EMI, REDD and their associated logos are trademarks of EMI (IP) Limited.